Riverland Water Activities
Waikerie
Green & Gold Houseboats
Stand up paddle boards for hire only available with a houseboat hire
Kayak Hire
Woody's Variety Store at Waikerie has kayaks available to hire for full day or half day. 10ft fishing and recreational kayak for hire.
$40 full day or $30 half day.
4 available now with more added to fleet if needed. Terms and conditions apply.
Ph: (08) 8541 3888.
Kingston on Murray Caravan Park - $22 for 3 hours per couple. The Kingston on Murray area is prolific in birdlife including the rare Regent Green Parrot. Explore the Waikerie Bird Watchers' Trail.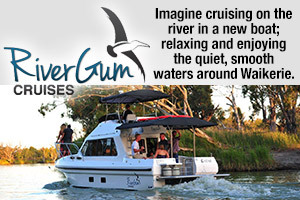 Join your hosts, James and Sandra, on their brand new boat 'Qatar' for a relaxing cruise up or down the Murray River, enjoying the quiet, smooth waters around Waikerie.
Get up close and personal with nature and see the unique bird life, native flora and local fauna while cruising past 100 foot majestic limestone cliffs and glorious native gum and mallee trees on the picturesque banks of the Murray River.
Short 1 & 2 hour cruises available and unique dining experiences to Banrock Station, Caudo Vineyard, Overland Corner & Lock 2. Up to 10 passengers. Bookings essential.
Phone 0477 333 896.
Kingston-on-Murray
Loch Luna
Loch Luna Eco Tours

Cruises daily except Saturday (occasionally NA due to driver unavailability/booked out). Bookings: 0449 122 271 or after hours (08) 8583 0155
Berri
Houseboat Adventures
Air Boat on request (is NA when no driver is available)
Missy for confirmed bookings of groups of 10+ or every now and then when Brian can supply details for spare seats
Renmark
Riverland Leisure Canoe Tours
Once a month or for private functions by arrangement
River Lady
For longer trips or for private functions by arrangement